The news about Tiktok deal is in the headlines of global media for good reasons – it contains elements of the USA & China bilateral relations, the popularity of Tiktok, & the big names who pursuit the deal, all make it a headline story by natural.
People might hear about ByteDance only recently being the mother company of Tiktok. But I have known about this company for years being a user of ByteDance's first internet product – Toutiao, the revolutionary user-generated content publishing platform. I can say that they have grown very fast & they have an ambition that has not yet been talked about.
That is: to compete with Baidu.
About Baidu
Baidu is most known for its search engine. In the rest of the world there is Google, but in China it's Baidu that dominates the search market with 67.09% market share according to Qianzhan Research report.
Other than search engine, Baidu offers more than 70 products including Baidu Baike (Chinese version of Wikipedia), cloud computing & storage, AI, App store & a bunch of internet based services. Recently Baidu has put into lots of effort in developing unman vehicles.
Baidu search is facing fierce challenge from Sogou search & Shenma search, the 2nd & the 3rd search engines in China respectively. & they will soon face the 4th challenger – Toutiao search.
What is ByteDance up to
Toutiao has set a milestone in China's online landscape & makes ByteDance famous & rich. Sina has brought the micro-blogging era to China with Weibo, although many companies tried to follow suite but all failed (Tencent just shut down Tencent Weibo). WeChat has created the mobile-blogging trend in China. & Toutiao has brought the news-blogging fad.
"Toutiao" means headline in Chinese. Its slogan says it all: "What you create shall be headline." Toutiao encourages everyone to read user-generated news style content & shares ad revenue with content creators in addition to all kinds of cash prizes, it brought fame & wealth to many hardworking content creators, "Content entrepreneurship" becomes a career of its own, & soon afterwords many internet & media companies also launched their version of Toutiao, News blogging, everyone can publish their writings on a news style platform.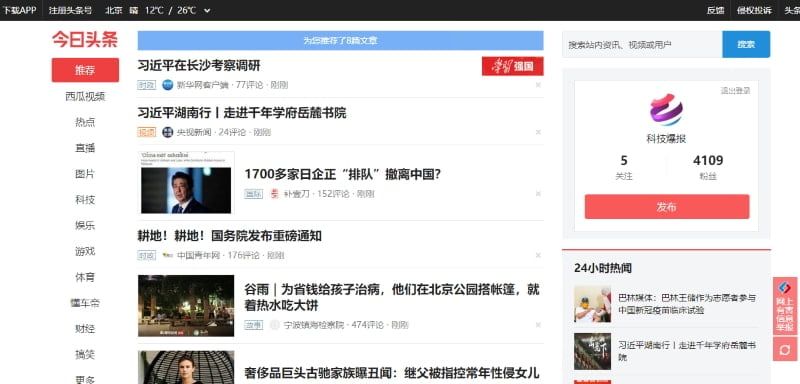 Then, all the news publishers start syndicating their content on Toutiao & other similar news blogs. Still, Toutiao App is the NO.1 most downloaded news app in China. & ByteDance wants more.
I remember back in 2016 or 2017, ByteDance posted an open position for investment project manager, the job description is to search for M&A targets in the US (they didn't write that straightforward, but I could understand that's about it). & soon after, ByteDance bought Musical.ly & changed its name to TikTok.
Remember we mentioned Baidu Baike? So ByteDanced bought a Chinese Wikipedia site Baike.com making it clear that it wants to confront Baidu in all the UCG spectrum.
Toutiao launched its search engine – so.toutiao.com without any open announcement. It also offers a search console for website owners to submit their websites & moniter search results in Toutiao Search.
I think Toutiao will launch its own browser & E-Commerce site by self-development or through acquisition, & also seek IPO in the US. It surely planned an IPO for TikTok if the White House had not forced it to sell it.
No matter what TikTok's destiny is, I can make a bold prediction that ByteDance is challenging Baidu. With its search engine market share been eaten by runners-up, Baidu will have to wake up from its past glory & face the reality before ByteDance becomes too strong to compete.
Original content by Topic News Editor & Contributor.

This work is licensed under a Creative Commons Attribution-NonCommercial 4.0 International License.
未经书面许可,请勿擅自转载!获许可转载时请附上本站出处链接。盗用必究
本文来源 China PR 全球新闻稿发布服务,日本新闻稿发布服务,中国新闻稿发布服务